A Total Review of the Torpago Business Credit Card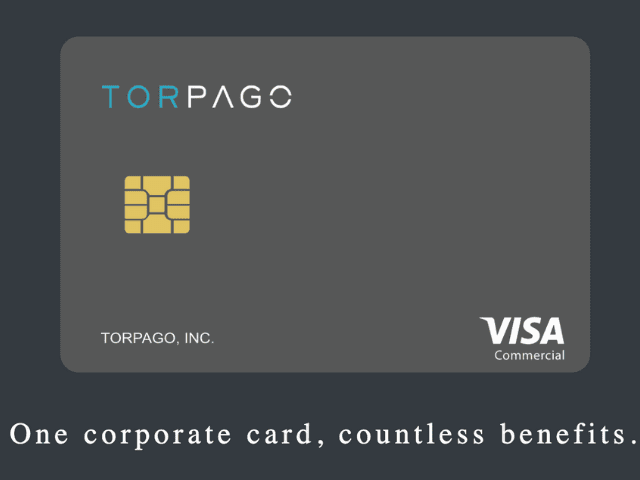 Corporate credit cards can be an important decision for businesses of all sizes. They offer a number of benefits, such as helping to improve cash flow, allowing businesses to extend credit to customers, and raising the company business credit profile. Torpago Business Credit Card is a new corporate credit card option that's gaining traction in the business credit market. As a result, we've decided to look at their business credit card offer under a microscope and share our findings with you so that you may judge if this is the correct choice for you.. In this blog post, you'll learn about: what is the Torpago Business Credit Card, card details, rewards and competitor overview
What is the Torpago Business Credit Card?
The Torpago Business Credit Card is a corporate credit card and expense management system that has yet to be heard of by mainstreet business owners. Corporate credit cards, such as this one, are intended for businesses with a number of workers so that employees may use a an assigned card for authorized purchases. If you're looking for a business credit card that offers great benefits, the Torpago Business Credit Card is the perfect option with a variable APR of 12-33% for their revolving credit line, it's an affordable card to use. Plus, there is no annual fee, virtual cards so you can save money and control expenses. The card also offers rewards programs that can give you bonuses up to 1x on your purchases.
Torpago Expense Management Features
Torpago expense management is an excellent tool for businesses that need to stay on top of their budget. It offers a variety of optional features like automatic reimbursement, as well as real-time updates on expenses so you can make smart decisions about where to spend your money. Combined with the invoicing and time tracking software, Torpago provides a comprehensive solution for managing business finances effectively.
Torpago's expense management solution connects with four different financial management solutions, which is one of the platform's key highlights.
Quickbooks Online
Oracle Netsuite
Financial Force
Acumatica
No other commercial credit line and expense management platform has this many integrations (excluding Stripe, to our knowledge).
Torpago Customer Service
If you're looking for a credit card that serves as your business' backbone, Torpago Business Credit Card is the perfect option. customer service agents are on standby with any questions or issues you face. It's a bit tricky to find online but here it is for your convenience, 1 (650) 623-5429. Torpago provides 24/7 support through phone and email. Each customer has a dedicated account representative who helps ensure their success with Torpago.
Does Torpago Report to Business Credit Bureaus?
As per Torpago, they report to business credit bureaus like Dun & Bradstreet. When on-time payments are reported to credit bureaus, it has a positive impact on a business's credit rating. Anyone interested in improving their business credit score may be happy with this update.
Card Details
Both physical and virtual cards are issued by Torpago. Each corporate account has a unique physical card that may be associated to multiple employees. Virtual cards are digital credit cards that may be allocated right away, without the need of a physical card to arrive in the mail. An unlimited number of staff members (assuming the credit limit is not exceeded) may be given physical and virtual cards. Another feature that should pique the interest of account holders is automated expense tracking. Data is sorted, synced, and accounted for every time a Torpago card is run. Manual expense reports should, therefore, be eliminated.
Torpago claims to be able to offer higher credit limits than conventional business cards because of their proprietary underwriting process and technology. Personal guarantee or deposit requirements are also not in place. Torpago also offers a feature which is more like a charge card, with no personal guarantee, instead of a revolving credit line. Which means, you pay off the entire balance in 30 days, much as you would with Net 30 financing. As a result, there is no interest since its paid off within 30 days. For the revolving credit option, APR's start around 8% and functions like a normal credit card, the full balance does not need to be paid in full within 30 days, however minimum payment requires at least 10% of monthly balance every month.
Everything Torpago does is at the enterprise security level. Torpago was created on the Visa network with this in mind, they are PCI-compliant. As a result, for organizations that handle branded credit cards, we must comply with the Payment Card Industry Data Security Standard (PCI DSS). Lastly, your data is safe and secure thanks to industry-leading encryption and multi-factor authentication. Also since Torpago app supports both iPhone and Android smartphones, your team can use it while on the go.
Rewards
If you're in business, and looking for a credit card that offers good rewards and benefits, the Torpago business credit card is a great option. Not only do you get great rewards for your spending, but the card also offers great protection from credit card fraud and other issues. For every dollar spent, you get one point in rewards. To provide savings to its cardholders, Torpago collaborates with other brands. As a result, you may get up to 40% off by paying for these services with a Torpago card and using Quickbooks, Carta, Plastiq, or Doordash.
Competitor Overview: Torpago vs Divvy
When it comes to business credit cards, there are a few standout players that deserve your attention. Divvy is one of these companies, and their cash back rewards up to 7x points is one of the best in the business. As a business owner, you can expect generous rewards for both spending and referrals. Both Torpago and Divvy share similar overall user experience which is top-notch and their business credit card options are unique and helpful. However, if you're looking for a card with lower rates, then Torpago may be a better option for you since they offer revolving credit lines in addition to their charge card. Divvy only offers a charge card. Both options have mobile friendly applications and payment integrations. Bottom line, while Divvy offers better cash back rewards, Torpago has more partner integrations and offers a revolving credit line in addition to the charge card feature like Divvy. Make sure to compare the features of both cards you're considering before making a decision!
Applying for a Torpago business card
To apply for a Torpago Card, make sure you review the requirements to get a high probability of approval. Only US-registered corporations (sole proprietors and LLPs) are eligible to participate. You may apply for an LLC, S-Corp, or C-Corp. As a result, you won't be able to obtain a credit line if your firm isn't structured.
Next, you'll need an EIN and a business checking account. To confirm the income of your company, it will be required to connect an account to the Torpago platform. Torpago now requests your monthly business income, but they do not specify an amount that must be achieved to qualify. Our theory, from several of our clients, is that the greater the income the better approval chances, we wouldn't advise to apply without at least $10K in monthly revenue to your business accounts.
Finally, you must not participate in prohibited activities.
Sale of Schedule-I or Schedule II-V controlled substances without a pharmaceutical license
Production, sale, or distribution of marijuana, guns, ammunition, or other weapons
Gambling, betting, lottery, sweepstakes, or games of chance
MLM, cryptocurrency, counterfeit products, escort services
Professional services including law and consulting
If you aren't sure or your company tends to fall into a gray area, see the full explanation in the aforesaid link. Although Torpago appears to be targeted for technical startups, many other firms may apply for an account. For revolving credit line option, we have seen best results for personal FICO over 680.
Conclusion
If you're looking for a business credit card that offers great value and flexibility, the Torpago business credit card is a great option. There's no annual fee, so you can keep your costs low. For the revolving credit line, the card also has a good rate of interest, making it a good choice for small businesses looking to improve their cash flow. In conclusion, the Torpago business credit card is a business credit card, it does not report on personal credit so you can keep your personal and business liabilities separate. There's also no hard inquiry to apply which makes this an excellent, risk free choice for small businesses looking to grow their business! Click here to apply now.
Still need additional funding? AMP Advance offers several alternative working capital solutions to suit your business needs. With one application get approved for multiple loan options funded faster then your local bank!