Restaurant Merchant Cash Advances & Equipment Loans
It takes a lot more than just great food and service to run a restaurant. To stay relevant and profitable, it also requires ongoing access to capital. As market conditions change, restaurant loans are becoming less accessible as banks continue to tighten their lending criteria. As a result, numerous owners are pushed to close their businesses due to a lack of working capital access. In this blog post, we'll be discussing the different types of loans and how they can help you keep you serving hot dishes. We'll also outline the criteria you should consider when selecting a loan for a restaurant.
Getting financing for a restaurant is often difficult for its restauranteur and one of the most common reasons why many fail is a lack of working capital. There are now more options for owners than ever thanks to the rise of alternative lenders and diverse ways to get business loans. We'll look at the sorts of funding that are accessible to you as you start or expand in this guide, and we'll examine the 3 best sources for restaurant financing.
Types of Restaurant Loans
There are a variety of loan options available, so it's important to select the one that best suits your business needs. Some loans offer lower interest rates, making them more affordable for small businesses. Additionally, some loans offer business owners the opportunity to collateralize their business assets. This means that if business conditions decline, the lender can take back the loan amount and business assets, instead of the restaurant owner. Other loan types, like term loans and lines of credit, come with flexible repayment terms that make them ideal for businesses of all sizes. It's important to talk to a loan specialist to learn more about the different loan types available and find the perfect option for your business. Here's a summary of how these sorts of financing for the hospitality industry can work for you.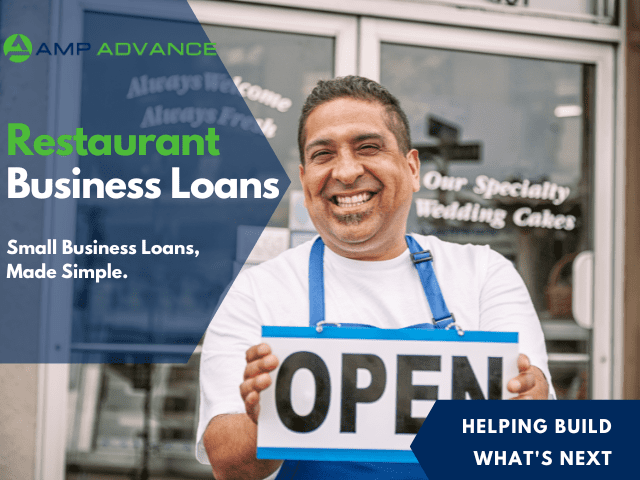 Restaurant Equipment Loans
Looking to upgrade or replace your restaurant's kitchen equipment? You're in the right place! Restaurant equipment financing may be used to finance most back of house assets like ovens, fryers, and dishwashers. Restaurant equipment financing can provide an inexpensive option to acquire high-quality commercial kitchen equipment without having to use all of your on-hand cash.
Restaurant Business Lines of Credit
Order your supplies, cleaning products, and other inventory well in advance of the holiday season with a business line of credit. They are perfect for small businesses that need short-term cash flow but don't want to tie up capital for an extended period of time. With a business line of credit, you only pay interest on the money you withdraw from your credit line for operational purposes, and your credit line is replenished to its original amount once you've paid what you borrowed. A working capital line of credit may be particularly beneficial to a seasonal restaurant. Having access to a credit line in your back pocket until you need to use it, such as when business slows down before the busy season and you have to cover your regular operational expenses is key to handling seasonal cashflow gaps.
Merchant Cash Advances for Restaurants
Merchant Cash Advances (MCAs) are the best option to help restaurant owners with challenged credit get quick access to capital. By leveraging your future cash flow for a lump sum of payment today, you can unlock fast funding you didn't know possible with an MCA. Since MCA is based on credit card sales, MCA builds in pay-as-you-go repayment plans that are great for restaurants that receive credit card payments. MCA pay-as-you-go is based on what is called a split percentage. For instance, if a restaurant Merchant Cash Advance comes with an offered 10% split percentage, then that means for every $100 transacted, $10 will go directly to the repayment of the advance and the $90 net will go to your bank. With this repayment option, you don't have to worry about fixed ACH payments impacting your cash flow. If you don't accept enough credit card payment revenues that's OK, there are alternatives with variable fixed daily, weekly, or monthly ACH debit options directly from your bank account that adjusts periodically according to your revenues. Minimal documents are needed to apply, and easy credit requirements and fast funding make this option popular for the industry.
Applying for Restaurant Loans
Restaurant financing can be a great option for business owners of all levels of experience. The application process is relatively easy and can be completed in minutes. There are a variety of loans available, so it's important to find the right one for your needs. Whether you're looking for a short-term loan to hold you over until your next big payments come in, or want to secure a long-term loan to help you expand your business, loans are an option. Start preparing and filing your paperwork today and get started on a successful restaurant financing journey! Below are the best questions to ask yourself to make sure you are in the best position to get approved.
What type of restaurant is it and how long have you been in business?
Whenever you are in the process of applying for a loan, it is always beneficial to consult with a funding advisor. They can help you get the best possible terms for your business – something that is critical in ensuring success. When looking for financing, make sure to take into account your unique needs and requirements. For instance, fast-food restaurants may need more short-term loans while upscale restaurants might require longer-term loans. The terms of the loan also have to be favorable towards your business – after all, this is money that you will be using to fuel growth and expansion! In addition, make sure you have a good credit score and that lending institutions view your restaurant as being both a safe and profitable investment. Try not to burden yourself with unnecessary paperwork or formalities; these things could jeopardize the application process altogether!
What are you like as a borrower?
Before applying for a loan, it is important to understand your personal credit score and how it will affect the process of getting approved. Some loan options require great credit scores like SBA loans, other financing options like Merchant Cash Advances for restaurants do not have credit requirements since it's focused on your business revenues. A good score means that you are likely to be approved for more loan options easily. However, make sure you don't overestimate your revenue potential – this could lead to disappointment later on when things don't turn out as planned. Once all these factors have been considered, work out an estimated amount of money that you think would be enough for your business needs. As the saying goes, if you fail to plan, you plan to fail so set realistic goals and expectations to make sure there's no stress associated with the loan you choose once approved.
Questions to Ask Before You Apply
There are a few things you need to take into account before applying for a loan: your credit score, the amount of money you need as well as the terms and conditions of the loan. Make sure to get estimates from different lenders so that you can compare their rates and find one that's best suited for your needs. You should also calculate how much interest will be applied to the loan and factor this in when making a decision. Once you are approved make to ask the lender what additional fees there are if any, as this will impact your net funding amount.
When do I need the money?
The best time to apply for new loans is when you have a solid business plan, have the revenues to support a loan payment, and are ready to take your business up a notch. It's always advised to plan ahead for any needed equipment upgrades or maintenance so you can negotiate with a lender in a position of strength before any major equipment malfunctions or breakdown impacts your operations. It's also important to know your business seasonal trends, if any, to be able to repay the loan in a timely manner – otherwise, you may end up with debt that cannot be repaid which can impact your personal and business credit.
Why do I need the money?
There are various reasons why you might need to borrow money. Maybe you're struggling to cover inventory for the week or replace a broken grill and loans can help alleviate the pressure. There are also short-term loans that can be helpful in a pinch, while long-term financing options offer stability and security for businesses of all sizes. Be sure to compare loan terms carefully so that you don't inadvertently end up paying more than necessary or taking on too much debt. If you answer the question of why your restaurant needs money, you'll be able to determine if you really need working capital. You're more likely to find the perfect loan product for your business if you know exactly why you need the loan for your restaurant before going through the application process.
How a Restaurant Cash Advance Can Help You
A combination of excellent cuisine, a prime setting, a great idea, and, of course, a constant supply of funding determines your restaurant's success.
To cover basic operating costs, such as paying your staff and keeping the kitchen fully stocked, you must understand how to obtain a restaurant cash advance or other funding. Following that, there's marketing and advertising, which is critical for introducing your culinary destination to the public. Lastly, you may need to invest in new equipment, such as state-of-the-art industrial ovens, stovetops, or refrigerators for your existing facility or opening a second site.
Why AMP Advance?
Restaurant funding can be a risky investment for traditional banks, but AMP Advance is a great alternative for those looking for a fast and easy way to get keep your restaurant serving great food and drinks. With average returns of up to 7% per month, it's a great option for those who are looking to invest in a business that has the potential to grow. Additionally, you don't have to worry about any regulatory requirements, so you can get started investing as soon as you want. This investment also gives you the opportunity to get involved early on in the growth of a small business. So what are you waiting for? Sign up today and get started on your restaurant funding journey!
We're fast
With so much business conducted online, it's critical that you find the best partner to obtain the funding you need quickly. We know about AMP Advance's commitment to delivering a fast and customer-friendly loan process, and we're here to help you. We're the quickest financial institution available, with a team of experts who put yours first. We'll cover you no matter what kind of tiny or medium-sized restaurant you own. In addition, we know that loan turnaround times can be extremely painful, so our process is constantly monitored and modified as needed to ensure fast loan approvals. Put simply: at AMP Advance, we're always available to assist your firm in any way!
We're flexible
AMP Advance is a financial solution that may be useful in a variety of commercial projects. You may utilize AMP Advance for anything and everything from restaurant invoicing to startup expenses. Moreover, everything is clear and simple to comprehend – there are no hidden charges or lengthy waiting periods. As a result, it's a fantastic option for individuals who are always worried about financing their company operations.
How Does It Work?
AMP Advance may be ideal for you if you're a restauranteur looking for an innovative way to get your business off the growing, fast. Restaurant owners have a variety of financing options available to them and we do our best to provide the best options and guide you through the process. Furthermore, approval times are quick, so you won't miss out if you want to apply!
How Much Can I Get?
If you're looking for fast and simple financing, AMP Advance is the way to go. You may get up to $5,000,000 in funding for your restaurant with just a few basic steps. On AMP Advance's website, you can easily discover the best alternatives for your needs, including small business loans and line of credit opportunities. Just fill out our online application and wait for approval or discuss your needs first in detail with a dedicated funding advisor to help you decide which loan is best for you.
What are some of the requirements?
As restaurants come in all shapes and sizes, so do business loans. Each loan type has its own set of requirements but below are the basics you must have to apply with us today.
Application
6 months' bank statements
$150K annual revenues
In Closing…
Running a restaurant is hard work, but finding a restaurant business loan that works doesn't have to be. As previously noted, if you can't get a bank loan, there are a number of online and alternative funding options, which is very advantageous. As a consequence, which sort of financing for your restaurant and which bank to utilize is ultimately your choice. If you carefully consider what your needs are and what product will fulfill those needs, there is no doubt that you'll be able to find the financing solution that's right for you.