Merchant Cash Advance with Same Day Funding (no hard credit check)
Are you in a bind and need a quick cash infusion? Well, look no further than a same day Merchant Cash Advance (MCA)! This financing option is designed for small business owners and entrepreneurs who need short-term working capital for growth opportunities to generate more revenue. Simply put, an MCA is a fast funding option with very few requirements that business owners can use to pay for business investments like inventory, renovation, and equipment upgrades. Because this option is short-term in nature, you don't need to worry about long processing time to fund or credit score impact since there is no hard inquiry. In addition, they are available online in a same-day delivery timeframe – making the process as easy as possible. So if you're in need of fast capital to grow your business, AMP Advance is your best bet.
What is a merchant cash advance?
Small business owners face a lot of challenges – from cash flow problems to unexpected expenses. That's where MCAs come in handy. This short-term, unsecured working capital option is typically not credit driven since it is based primarily on your revenues trends. MCAs are based on revenue trends so you can potentially turn your future sales into a lump sum of cash, today! There are several lenders available, so it's important to find one that fits your needs and budget. Once you have been approved, receive your advance within 24 hours –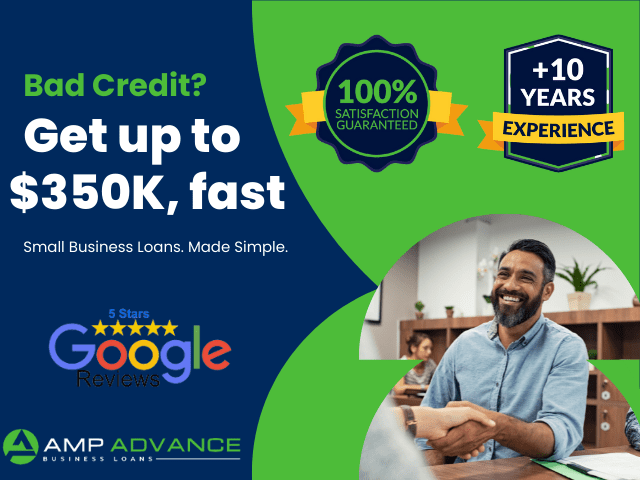 Why would I need it on the same day?
When it comes to business, there's never a bad time to get a quick cash infusion. This financing option comes in handy for a variety of reasons, from increasing sales to reducing the costs of goods sold. If you're in a hurry and need cash right away, a same day advance might be a solution for you. Speak to a qualified funder who can help you understand the benefits of this solution and determine if it's the right option for your business. Remember – a funder who is qualified and has your best interest at heart is key to a successful working capital application.
How does an MCA work?
MCAs work by providing short-term funding to small businesses in need. The funders that offer these solutions usually have little or no hard credit check requirements, making them a popular choice for many entrepreneurs. Once approved, the money will be deposited into your bank account the same day – perfect for quickly covering unexpected costs! So what are you waiting for? Apply today and get funding for your business!
Pros and Cons
Getting an MCA with same day funding and no hard credit check can be a great solution for small business owners who need cash quickly. However, there are a few things to keep in mind before making a decision. For example, the costs of this option can be higher than traditional bank loans since it is not credit driven and requires little documentation to apply. If you're interested in obtaining same-day funding with no hard credit check, it's important to do your research first so you know the total costs and what conditions must be met. Additionally, it's important to keep in mind that an MCA is not suited for long-term needs, so make sure that the infusion of high-cost capital can provide your business with a solid return on investment.
The benefits of an MCA also include loose credit requirements, little documentation required, fast funding, and best of all, no collateral is needed to get approved. Converting future sales into a lump sum capital infusion could be a huge benefit to leverage in the right business owner's hands.
Can I get a same-day merchant cash advance online?
You can get one online by using a funder like us, AMP Advance. Just fill out the application process and wait for a response as fast as 1 hour. There are no hard inquiries required so you can get the money you need fast. Plus, we offer competitive terms and flexible repayment options. So, whether you need a small sum of cash or a large advance, AMP is here to help!
Do I need to put down any collateral?
No collateral is required for an MCA. However, some lenders may require you to put down an additional security deposit to protect your account from unauthorized transactions. In most cases, the approval process will be fast and simple – you won't have to fax anything or wait long periods of time for a response. If you're interested in getting a merchant cash advance same-day funding without putting any hard credit checks on your file, we can help! We're here to help you get the cash you need as quickly and easily as possible, so don't hesitate to contact us!
What are the requirements?
There are a few requirements that must be met in order to apply. A business much use a business checking account, be in operation for at least 6 months, and show revenue trends of $100k annually. The application process is typically fast and easy. Once approved, funds will generally arrive within 24 hours and can range from $5,000 – $1,000,000 depending on the terms and conditions. Make sure to research the various funding options to find the best option for your business.
How much can I borrow?
Merchant Cash Advances are a great way to tide over a cash flow crisis. They come with a quick and easy funding process – all you need is your business information and bank statements. You can borrow up to $1,000,000 and have access within minutes after approving the working capital online. So what are you waiting for? Apply today and get the cash you need to keep your business running!
In Closing…
If you are looking to get approved for same-day funding with no hard credit check, all you need is a business bank account and generate sales above $8,000 per month and be in operation for at least 6 months. We hope that this blog was of help to you and that you will visit our website again soon!