Best Commercial Business Loans You Might Need
When expanding a commercial business, financing can be an important part of the equation. However, loans in this area can be tricky to come by – which is where commercial business loans come in. Different loans are designed specifically for different types of goals, so it's important to do your homework before choosing one. Moreover, loans often come with flexible repayment terms and varying interest rates, making them ideal for small business owners who need some breathing room. Read on for information on the five most common commercial business loans, and get started on securing the financing you need to grow your company!
What are commercial business loans?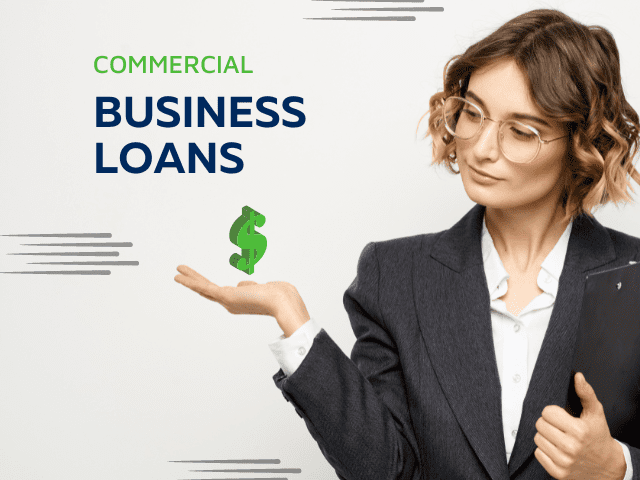 Commercial business loans can be a lifesaver when you need to purchase a big-ticket item or need to expand your company. They're also popular for financing emergencies – like if your commercial freezer breaks down. To get the best rate, be sure to consult with a financial advisor. You might need to provide collateral, and the interest rates are usually higher than personal loans. These can be used for a variety of purposes, such as expanding your company or buying new equipment.
Where to Find Commercial Business Loans
Finding them can be a daunting task, but it's important to have options open to you. There are many places to find loans online and offline, so it's up to you to do some research to find the best option for you. Here are some ideas to get started:
Your current bank
SBA lenders
Online lenders
Once you've narrowed it down, it's time to discuss with your preferred lender to review your loan options and requirements to qualify. Make sure you don't forget to prepare for the loan application process by preparing documentation in advance such as financial statements, bank statements, tax returns, etc. to expedite the process and make the experience run smoother.
Banks
Banks offer commercial loans that can be of great help to small and medium-sized companies. The interest rates vary, but the average rate starts at around 12%. You need to assess your business and personal credit score, financial stability, and available collateral if necessary, before applying for a loan, as these factors will affect the terms of the loan. Originating banks have varying credit requirements but overall we have seen the best approval rates for businesses with 680+ FICO, 2 years or more in business, and $150K or more annual revenues. You should also compare different banks' offers so you get the best deal possible. Once you have verified all the information and taken into account your company's specific needs, it's time to apply!
SBA Lenders
There are a variety of loans you can apply for but the SBA 7a is the most popular. SBA loans are subsidized by the Small Business Administration (SBA) which lowers the risk of the originating bank since the government is helping to offset risk. Make sure to research different SBA lenders and find the right loan that suits your situation. Rates are pegged to the Prime Rate, Libor Rate, or pegged to another rate. Rates can also be fixed or variable. Personal credit is usually required to be above 680 FICO and company credit should be 140 or higher on the SBSS (Small Business Scoring Service). And last but not least, always make sure you qualify for the loan before applying- this will prevent wasting your time and having your sensitive information submitted and credit pulled.
Online Lenders
There are many online lenders out there that offer commercial loans. You can find one that suits your needs and requirements quickly and easily. Some Lenders offer specific loans and others have multiple different loan types – term, lines of credit, real estate, etc – so it's important to compare rates and terms before applying for a loan. Once you have selected the lender and completed the application process, make sure to keep track of your lender's updates as they may impact your eligibility or interest rate on the loan.
How to get a commercial business loan
Commercial business loans can be a vital financing option for small business owners and merchants. When you know what type of loan you need, it's important to follow the application process and be prepared for lender questions. Once you've found a lender that is willing to offer you a good term, it's important to research the types available and determine which is the best fit for your company. Remember, loans come with interest rates and fees, so make sure you're getting the best deal possible. And lastly, make sure your company's collateral is up to par – because they're not guaranteed!
1. Find out if you qualify
Before you can apply for a commercial business loan, you need to meet some eligibility requirements. These depend on the type of loan and the company's profile, but generally speaking, loans are available in terms of amount and term. Make sure to gather all the required documentation before submitting an application – this includes proof of income, assets, liabilities, licenses, and more. You will also need to verify your eligibility by completing an application form. Once everything is in order, lenders will do their own credit check as well as review your proposal. If everything looks good from a lending perspective – congratulations!
2. Decide what type of financing to apply for
When it comes to financing a business, there are several different types of commercial loans you can apply for. Among these, the SBA 7a Loan is the most popular type and typically offers the best terms and conditions. Before applying for a loan, be sure to consult with a reputable lender. They will be able to give you expert advice on which type of loan would be best suited for your company – based on its size, creditworthiness, and other important factors. In addition to this valuable information, lenders usually require collateral such as property or shares in order to reduce the risk of non-payment by company owners/staff. Be prepared to provide all relevant financial details as well as any necessary collateral when applying for financing – this will help speed up the process and avoid any delays or complications along the way!
3. Figure out how much to borrow
Before applying for a commercial loan, it is important to determine your business' credit score and financial stability. This will help you get the best loan options that are suited to your needs. You can also use collateral as security for loans – this will give lenders peace of mind. Furthermore, make sure you have a repayment plan in place so that there's no risk of defaulting on payments later on down the line. Commercial loans come in different shapes and sizes – from small to enterprise. It would be helpful if you could narrow down the type of loan you need based on your business size, industry etcetera. Once this is done, it would be easier to find a lender who offers the right product at an affordable rate with minimal paperwork requirements involved!
4. Research lenders
Lenders are interested in businesses that have the potential to be profitable and of a good size. Your business plan should reflect this, as well as your company's competitive strength. Furthermore, lenders want to make sure you can repay the loan in full and on time – without any late payment penalties. Therefore, it is important to get pre-approved before applying for a loan. This will help minimize the amount of paperwork you need to submit and speed up the process overall.
5. Apply for a loan
Once you have narrowed down your preferred lender, chosen the best loan option for you, and verified the loan requirements then it's time to submit your application. Make sure you have documents to show your financial stability like bank statements, tax returns, financial statements, and other relative financial information. Remember, before making any decisions, ensure all your financial needs have been considered, and then apply for the loan you need!
What type of loan makes sense for your business?
Choosing the right loan depends on a number of factors, such as the company size, the type of business, your goals, collateral, and the terms and conditions of the loan. Some lenders only offer 1 loan option. The most popular loan options are secured also known as equipment loans, lines of credit, merchant cash advances, or SBA 7a loans. So, start shopping around and find the lender and loan option that best suits your needs. Once you have a loan in hand, get started on your dream today!
Small Business Loans for Different Industries
Starting or expanding your company can be a lot of work, and financing can make all the difference. That's why it's important to research different loan types before applying.
Do you need a backhoe replacement? Do you need a new commercial oven to make your famous pizzas? Is there expensive software to process credit cards with your iPhone? Or, for all of those Crossfit sales guys on your staff who can't seem to function without their morning protein smoothies? A six-speed blender! There are always loan options to get the capital you need. Seriously! Almost every industry and type of quirky equipment you might need is covered by our financing solutions – so your wish list can probably be filled. There are financing options for nearly every industry. Finance construction equipment, software, commercial kitchen equipment, medical devices, and MORE!
Unsecured Small Business Loans
Commercial loans can be a great way to help your company grow and succeed, but what if you don't have collateral? One of the best funding options is an unsecured loan – this means that loan terms and conditions are not as rigid as with secured loans. As an owner, this can be a great option for you as it's quick, easy, and affordable. In most cases, credit is not set to a high requirement as long as revenues can support loan payments. So, if you're looking for a loan, don't hesitate to apply online or in person – whichever is easiest for you and your needs.
In Closing…
Now that you know the different types of commercial business loans available and where to find the best, it's time to decide which one is right for you. Additionally, be sure to research the loan requirements of each lender before making an application, as some lenders may have stricter eligibility requirements than others. Finally, be sure to follow up on your loan status and stay on top of any changes so that you can continue running your company smoothly. So don't wait – apply today for the best possible chance at getting approved. Thanks for reading!