Bad Credit Business Loans
Financing a business is always challenging, but it can be even harder for owners with poor credit history. Thankfully, there are loan options available that can help entrepreneurs get the financing they need to grow their companies.
Traditional bank loans typically require a minimum FICO credit score of 680+ and at least 3 years in business. However, some online lenders offer bad credit loans with lower requirements. For example, some lenders will accept a rating as low as 500 if your company is generating $150,000 or more in annual revenue. Bad Credit Loans come in a variety of forms – from short-term financing to long-term debt agreements – and can be advantageous for businesses with lower credit scores. To find the best option for your company, it's best to research the different loan types available to you.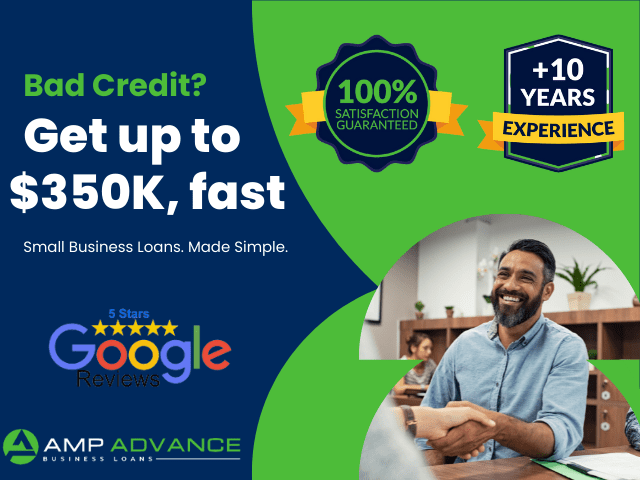 What is a bad credit score for a Business?
If a credit score falls below 580, it is considered to be poor. A person with a FICO score in the indicated range is considered high risk because according to their study, low credit ratings in this range are delinquent on their loans in 61% of cases. Credit cards, loans, and other financing options may be difficult to obtain at this level of risk.
If you're struggling to get by, a bad score can be a real obstacle. In general, a poor credit score means you're more likely to need a loan and have issues repaying it on time. If all else fails, consider AMP Advance as a resource – we can offer loan options that are designed specifically for people with poor credit ratings. There are many things you can do to improve your credit score, such as paying down your total debt, settling unpaid collection accounts, or just simply asking your current credit lines to increase your amount to artificially lower your utilization rate. But if the timing is tight and an opportunity comes up to expand your company, there are plenty of options available to you, so don't hesitate to get in touch with AMP Advance to discuss your individual situation.
More Than Half of US Small Businesses Are Experiencing Financial Hardship
Under current market conditions, nearly half of all small businesses in the US are currently experiencing financial hardship, which is a major problem as it prevents them from expanding or even surviving. This is where AMP Advance comes into play – we offer commercial loans to companies with bad scores by offering creative financing options to choose from. These loans are available at very competitive interest rates and have flexible terms that can fit your needs perfectly, and come with safeguards like early repayment options with no penalties to save on costs.
How can bad credit business loans help me?
These are a great way to help your business expand. There are short-term financing options that can help save you money in the long run. Plus, the interest rates are very competitive, and you won't have to worry about paying high processing fees either.
Since traditional banks are extremely credit-sensitive, alternative lenders may be an ideal source of funds for small businesses with bad credit. Whether you need long-term financing for equipment or are looking for quick cash flow until receivables catch up there are alternative financing options. Keep in mind that companies with tight cash flow might find loan payments to be a significant financial burden, so it's critical to get a loan that has reasonable payments and doesn't charge high-interest rates.
Types of bad credit loans
Repaying a commercial loan can be a challenge in tough times, but it's not impossible. There are a variety of repayment options available, ranging from daily, weekly, monthly payments and to pay-as-you-go financing. It's important to choose the option that works best for your business and your financial situation. Rates also vary depending on the type of loan and the severity of your credit score. There are a variety of loan types available, so it's important to select the right one for your company. Don't hesitate to get in touch with us if you have any questions.
Equipment Financing
Equipment financing helps small businesses get the money to buy or lease equipment without wasting their operating capital by providing asset-based loans. Since the equipment is utilized as collateral to secure the financing, credit approval is more flexible with this form of commercial loan. Lenders place more emphasis on the value of the equipment itself instead of primarily basing approval on a business owner's credit score. By borrowing money to purchase equipment, make improvements to your company, or cover startup costs, you can take your biz to new heights. However, before applying for a loan it is very important to consider all the options available and get accurate estimates of how much financing you will need. Make sure that you have complete documentation and check eligibility requirements to avoid any delays in getting approved.
Merchant cash advances
Merchant cash advances (MCA) are unsecured working capital options leveraging your future sales for lump sum cash, today. MCAs are a good option due to minimal paperwork, high approval odds, and fast funding turnaround meeting your immediate capital needs. MCAs can come with higher costs but also have the least restrictive qualifications since its primarily focused on revenue trends, so it is important to be very careful before applying for one. If you do not repay the advance on time, your rating could be affected and it may become difficult to get funding in the future. You should also make sure to have a good business plan and evidence of profitability before applying to make sure this option can generate revenue that warrants the higher cost – otherwise, you run the risk of defaulting.
Invoice factoring
Invoice factoring can be a great way for businesses to get access to the funding they need quickly and without any risk. This process involves selling invoices (dated within the last 30-90 days) to a factor, who can advance you up to 90% of the invoice in days. There are different types of factors – cash flow factors, working capital factors, and receivables factors. Since the invoice is to be paid by your client, you may not be responsible to pay the advance invoice, this is called non-recourse. Oftentimes, the factor helps in the collections department and handles any collection issue directly with your client on your behalf, other times factors will assist you in collection efforts. So, depending on your company's invoicing trends, you might find the perfect type of factor, with non-recourse for you if invoices are unpaid, that matches your needs perfectly!
Secured Line of Credit
A property equity line of credit is an affordable and simple technique to get a commercial loan. Regardless of your bad credit rating, you may take advantage of a low-interest, tax-deductible line of credit using this technique. Remember, though, that if you can't pay off your debt, using your property equity puts it at risk. If you have a consistent income and the effectiveness to manage your money, consider this option.
What is the difference between secured and unsecured loans?
A loan backed by collateral is known as a secured loan. Mortgages and automobile loans are the most prevalent forms of secured financing, while investment properties or automobiles serve as collateral. The bank can also take your collateral as payment if you don't pay back your loan. For up to seven years, a repossession will remain on your credit report.
When you obtain a secured loan, the moneylender attaches a lien to the property you offer as collateral. The creditor removes the lien once the debt is paid off, and you have both property free and clear.
According to Experian, you may use the following assets as collateral for a secured loan:
Real estate
Bank accounts (checking accounts, savings accounts, CDs, and money market accounts)
Titled Vehicles (commercial trucks, trailers, etc)
Non-titled assets with market value such as heavy construction equipment
Stocks, mutual funds or bond investments
Compare small business loans for bad credit
By applying now, you'll be able to find the best loan for your needs and budget. Be sure to read all the terms and conditions of the loan before applying, so you know everything you're getting yourself into. There are a variety of commercial loans for bad credit that you can compare online. So, what are you waiting for? Apply today and start rebuilding your credit!
How does AMP Advance work?
Bad credit business loans are a great option for people who need money fast. There are no hidden fees and multiple loan options with competitive rate so it's a logical option for those who need cash right away. Loans are processed quickly and deposited directly into borrowers' bank accounts. The process is simple – borrowers just need to fill out a short application and AMP Advance assesses their borrowing ability by looking at several data points, not just your credit. With AMP Advance, bad credit borrowers can get the financing they need to expand or buy equipment.
AMP Advance: Best for high-revenue businesses
If you are looking for a loan that will help your company grow, but have bad credit then AMP Advance is the perfect option for you. We can offer multiple funding solutions that are not credit-sensitive with just one simple application. If your company generates a steady cash flow of $150K annually, then you have a great chance to get funded, fast. With no hard inquiry to negatively impact your credit, competitive rates and fast processing times makes us a risk-free option for anyone facing credit challenges that need financing.
In Closing…
We feel that the US economy relies on small companies and historically, they have been under-served especially when bad credit is impacting their access to affordable business loans. We've been committed to making it easier and quicker for companies to get funding online since our inception in 2015. That's why we developed an easy-to-use online tool that owners can use to get the capital they require while not taking time away from running their businesses. We also offer exceptional customer support with dedicated funding advisors to help you navigate the best options for your operation. Compare business loans for bad credit with AMP Advance and find the perfect loan for your needs regardless of credit. Simply apply online today. We guarantee you'll be happy you did!