Best Cash Advance for Business – How Much Can You Borrow?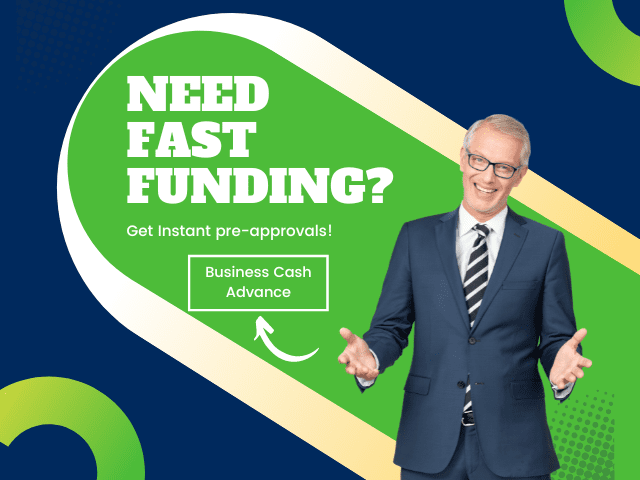 Are you looking for a way to boost business cash flow in a hurry? If so, the best cash advance for business, also known as merchant cash advances (MCA), is an option that funds next day and could be the perfect solution for you! This financing option allows businesses to borrow against future income – meaning that they can leverage from $5,000 to $350,000 in funding by using future revenue in exchange for lump sum capital, today. So whether you're a small business just starting out or an established business looking for additional capital to expand your operations, merchant cash advances are a great option. To find out more about merchant cash advances and whether they're right for your business, read on!
What is a merchant cash advance?
For business owners who need quick access to cash, merchant cash advance options are a great option. Approval rates are typically high, so you're likely to get approved for the cash you need. This short-term funding option can be used to cover unexpected business costs, such as inventory, payroll, and other business costs. To get the most out of your merchant cash advance, make sure to consider your current revenue trends and if the return on investment for whatever you utilized the funds for, is worth the cost the MCA. Additionally, factor in the duration of the advance – merchant cash advances typically have a term of between three (3) and twenty four (24) months.
Flexible Payments
Merchant cash advances are a great way for businesses of all sizes to solve their funding needs in a short-term manner. Available in different lengths, from 90 days to 504 days, merchant cash advance options have been tailored specifically for small business owners and entrepreneurs. Compared to other financing options like credit cards or personal loans, merchant cash advances come with several advantages – the most important of which is the fact that payments can be made as frequently or infrequently as required. Furthermore, good credit is not typically required since it is primarily based on current revenues the business generates, and no collateral is required making them an attractive option for companies facing these challenges.
Estimated Completion Date
The estimated completion date or payoff date is the earliest possible time frame for when the business cash advance will be fully repaid. It is important to keep in mind that this timeframe can change depending on a variety of factors, including terms and repayment method. Since MCA are typically based off your credit card sales, repayment can ebb and flow with your revenue trends thereby making the term unquantifiable.
Cost and Fees
When it comes to funding short-term working capital needs, merchant cash advances offer a convenient and cost-effective solution. With funding amounts starting from $5,000 and repayment timelines that vary depending on the business' cash flow situation, merchant cash advances are an ideal financing option for small businesses. There are no interest charges associated with merchant cash advances – this is purely a cash advance. This means that you will only have to pay back the original funding amount plus any additional fees (usually around 4%). Make sure to always ask the business cash advance provider what the total fees are before signing any contract. Typically funder's fees are debited from the funding amount, for instance if fees total 4% on a $10,000 advance, then your net funding will be $9,600.
Merchant cash advance allows convenience and flexibility for business owners.
Cash advance for business offers business owners a convenient and flexible way to get the financing they need when they don't have the time to wait for a traditional loan, or lack the collateral and credit required. There are various types of merchant cash advances that cater to different needs, from in-person transactions to online loans. The best way to decide if this credit option is right for your business is by speaking with a MCA provider. Once you've narrowed down your options, it's important to compare terms, costs, repayment methods and rates so you can find the perfect advance solution for your needs.
Uses For a Business Cash Advance
Growing or expanding a business can be a daunting task. That's why it's important to have working capital – cash that you can use to cover unexpected expenses, cover short-term financial obligations, and more. Obtaining a loan is a big decision, but it's important to compare interest rates and terms before applying. Some banks may require collateral (like stock or real estate), so it's important to know the requirements of any loan you're considering. In the end, business cash advances are versatile and can be used for a variety of purposes. Here are just some of the many uses:
Cover unexpected expenses
Pay short-term financial obligations like payroll
Purchase or repair equipment
Marketing
Sectors Benefited By MCA Funding
MCA financing is a great option for businesses of all sizes. It can help you with various business needs, such as funding your retail business, hiring more staff or purchasing new equipment. The amount you can borrow is based on your business's credit score and other financial parameters- so it's important to check this out before applying for a loan. Additionally, make sure you are aware of the terms and conditions before signing anything. MCA financing is available to any business in any sector- small startup or established company alike!
Advantages and Disadvantages
Businesses need cash flow to stay afloat, and cash advances are a great option for them. However, it's important to weigh all the factors before making a decision. There are a few things to consider, the total costs, collateral and revenue trends of the business. Once you have a good understanding of the options, be sure to get approved for the cash advance that is best for your business. The biggest advantage of a business cash advance is the minimal requirements to get approved. The biggest disadvantage are the costs in relation to traditional business loans. Remember, costs vary from funder to funder and each have their own requirements of revenue trends, so be sure to do your research first.
How to Use a Merchant Cash Advance
Merchant cash advance options can be a great way to handle sudden cash flow problems. However, it is important to remember this option has higher costs, so make sure the return on investment is covered by the costs of the cash advance. For instance, if you know inventory you can purchase today at a discount can be bought for $1 and you can retail that same inventory for $3 then it's likely the costs has generated you an ROI worthy of the risk associated. It is typically advised not to use an MCA for debt purposes like paying off tax liens since no additional revenue or profit is generated from it.
Qualifying for a Business Cash Advance
When it comes to business cash advances, many factors will determine whether or not you qualify. To get started, search online for funders who offer business cash advances in your area. Normally, business cash advances require a certain time in business, minimum monthly revenues, approved industry types and a business checking account. As a rule of thumb, we advise that you can be qualified up to 1-2x your gross monthly revenues. Gross revenues are calculated using your recent business bank statements and / or credit card processing statements. Underwriters exclude from gross monthly revenues transfers from secondary or personal accounts and wires from other funding sources. Ending daily or monthly balances are also taken into consideration, for instance if your account ends in the negative every day then it's possible you may be declined due to lack of cashflow supportive repayment on the advance.
How to Get a Business Cash Advance
There's nothing like a business cash advance to help you grow your business, fast. Whether you're in need of a small amount of cash to cover a short-term cash shortfall, or you need a longer-term option to purchase equipment, getting a business cash advance can be the answer. Make sure to verify your application information and make sure all requested documents are included in order to speed up the process. Costs on business cash advances vary depending on your business profile, revenue trends, the amount of money you're requesting, and the type of repayment method you choose.
Application process
There are a few things you need to keep in mind before applying for business cash advance. For example, make sure that your business is solvent and able to repay the loan on time. Secondly, be ready with all of your bank statements (last three months), tax documents etcetera so that our funding advisors can properly assess your eligibility for credit. Once everything is uploaded or faxed in, the application process only takes around 10 minutes! Afterward you will be contacted by one of our loan officers who will provide an interest rate quote based on your credit score and repayment history. So don't wait – apply now and get started on financing your business growth!
Qualifications and prerequisites
Before applying for a business cash advance, it is important to meet certain qualifications and prerequisites as they can vary from lender to lender. These may include having the correct paperwork in order, proof of business operations, etc. Requirements vary but normally a business checking account ,6 months time in business, revenues above $10,000 per month and a qualified industry are basic requirements to qualify. Generally, as long as your business meets all other eligibility requirements and has an established history of steady cashflow (verified by analysis of business bank statements), you're likely good to go!
Payout and repayment outline
When applying for a business cash advance, it is important to understand the repayment schedule and terms. It's also vital to review your cashflow before doing so as this will affect how much you are able to borrow. Traditionally cash advances are based off of credit card sales so the option of a pay as you go, also known as credit card split may be available. Credit card splits are an agreed percentage being split from the transaction to credited as payment. For instance, $100 processed on a 10% credit card split would mean $10 of the $100 would go towards repayment. If the business does not utilize credit cards as payment, then there might be different repayment options available such as fixed daily, weekly or monthly automated debit payments directly from your bank account. Make sure you understand any cash advance approvals and their repayment methods before signing any contracts.
Frequently Asked Questions
What are the terms?
There are a few terms you should be aware of when it comes to cash advances for businesses. Credit card splits, since its contingent on credit card sales theoretically have no term since it ebbs and flows with your business. Some cash advances may have fixed terms with a daily payment. To calculate your estimated terms, divide the total payback amount by your estimated daily payment. If a credit card split then divide the split percentage by your average monthly credit card sales then take the results and divide it by the total payback amount. For instance, assume you generate $5,000 a month in average monthly credit cards sales and was approved for $5,000 with a 10% split and an agreed on $6,000 total repayment. Your average monthly repayment would be $500 (10% of $5,000) and your estimated term is 12 months ($6,000 total payback / $500 monthly repayment). If you do not accept credit cards as payment, then if offered a fixed daily payment of $50 on the same example, you can project 120 total daily payment (21 business days) as your estimated term, which is approximately 6 months.
Does credit matter?
NO, credit matters when it comes to getting a loan for your business by a bank. Since a cash advance for business relies heavily on cashflow, credit is not the determining factor. Although a business with low credit scores may have to pay higher costs and could take longer to get their loan approved. On the other hand, having good credit can give you a better chance of being approved and give you better costs. So, having a poor credit score is something that will not get you an automatic decline, it certainly does help to have good credit, it is worth checking out before applying.
How fast can I get funded?
It typically takes funders up to three business days to process and approve an application and send out funding wires. However, with our team you can get funded as soon as the next business day from start to finish if you apply, for best results it is advised to apply in the AM so wire can be received same day or next day. That means you won't have to wait long at all for your loan application to be reviewed and processed. You can borrow up to $350,000 in total from us, which is a great amount to start working on your business or new project. The costs are competitive too, we endeavor to match or beat any competitor terms.
What documents do I need to apply?
When applying for a cash advance, some of the documents you may need to include with your application are: 6 months business bank statements, 6 months credit card processing statements. If an approval is offered and accepted, common documents stipulated to fund would include: driver license, business voided check, proof of ownership and or recent tax return.
Conclusion
If you're looking for the best cash advance for business, you've come to the right place! Our team of experts can help you find the best cash advance for your business needs. By providing you with all the necessary information, we can help you get the cash you need to keep your business moving forward. So whether you're looking to borrow a small amount of cash or a large sum of money, our team of experts can help you find the best cash advance for your business. Don't wait – get in touch today!